RV Storage Building in Fallbrook, California
Sunward Steel Buildings, Inc., was the supplier of this pre-engineered steel RV storage building in Fallbrook, California, in February of 2021.
Durable, Reliable Steel Storage Buildings 
Offering superior strength and durability, prefabricated metal buildings make ideal storage spaces for both home and business owners. Easy to customize so they can accommodate personal, traditional, or mini storage needs, pre-engineered steel buildings are highly adaptable in terms of color, size, ceiling height, building codes, insulation, and aesthetics, among other areas.
This particular steel storage building frees up room in the owner's driveway and yard, and it also protects the owner's valuable RV from premature or avoidable damage. It also makes it easy for the owner to access and pack up the RV ahead of travels by keeping it onsite.
Located in northern San Diego County in Southern California, Fallbrook sits just east of Camp Pendleton. It lies roughly 14 miles northeast of Temecula and about a 40-mile drive from San Clemente.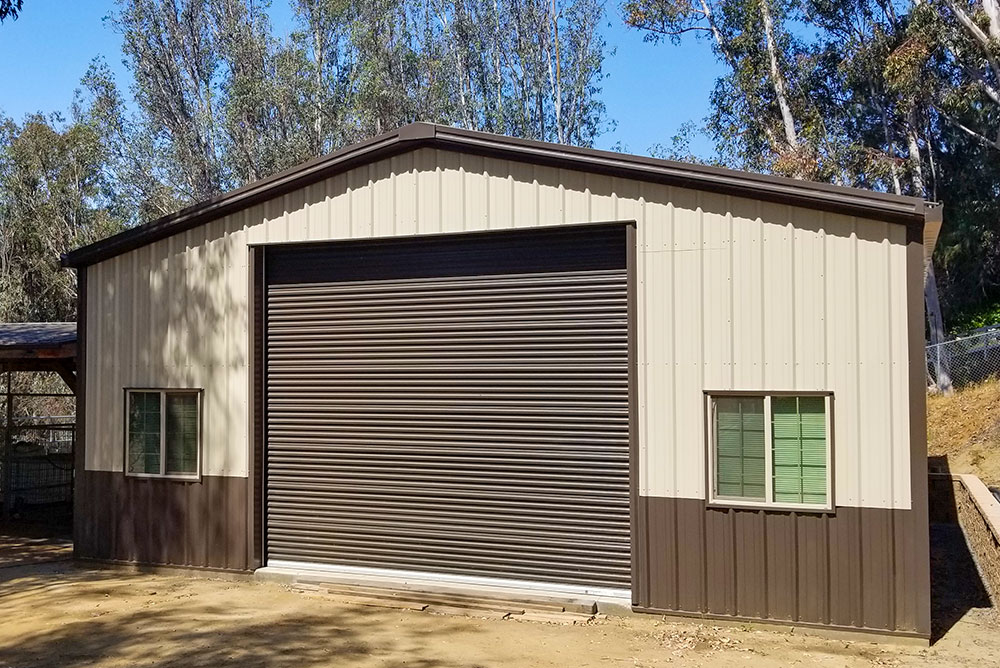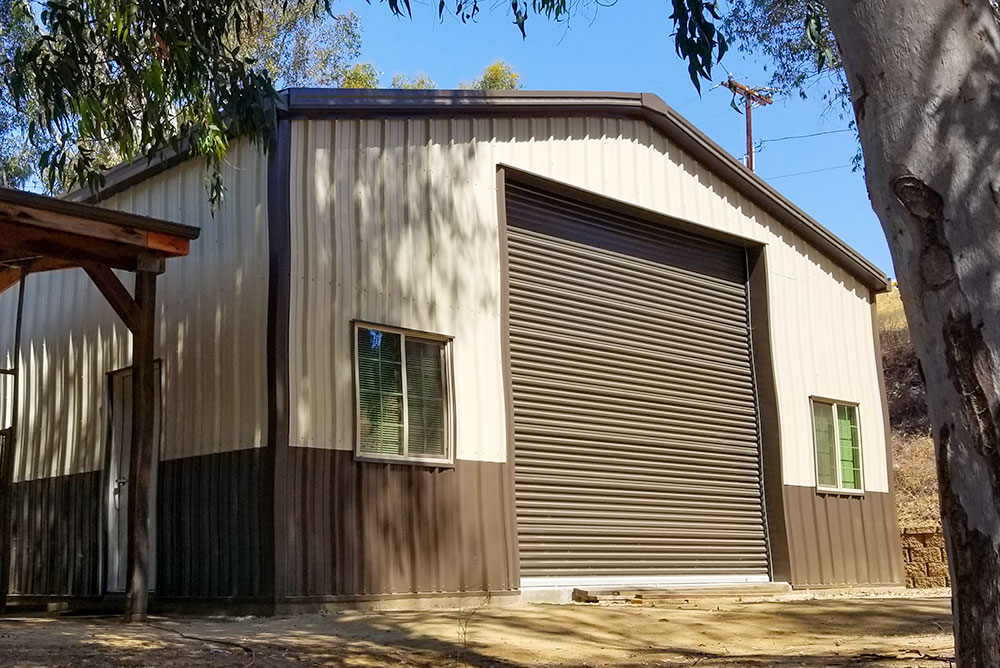 Building Specifications
Durable, spacious and secure, the metal building features high-quality steel construction and now functions as a vehicle storage area. Standing 35'x35'x14' in size once erect, the metal storage building easily houses the owner's 32' Class A motorhome and the satellite dish on its roof, helping preserve the RV's resale value while protecting it against theft, weather-related damage, pests and other potential hazards.
The metal RV storage building has a broad clear span and high overhead clearance, leaving plenty of space to house cars, trucks or an RV. It also has a Saddle Tan-colored exterior and complementing, Koko Brown-colored trim and Galvalume Plus wainscoting, enhancing exterior aesthetics.
Providing protection from above is a hardwearing, corrosion-resistant Galvalume steel roof with a modest 3:12 pitch, and (3) framed door and window openings are additional features, allowing natural light, building users and vehicles inside.
Found throughout the metal storage building are (1) 3070 walk door opening enclosing (1) upgraded, 4070 commercial roll-up door system, (1) 16'x12' overhead door opening, and (2) 3'x4' window openings.
Engineered to adhere to all building, engineering and seismic building codes in place in Fallbrook, the steel RV storage building also boasts a wind speed rating of 110 mph.
Featured Sunward Steel RV Storage Buildings
See Some of Our Latest Projects