Commercial Steel Building in Golden, Colorado
EVO Bouldering was looking for land to construct a new commercial steel building in Golden Colorado, a home place to build a new climbing gymnasium, and in 2018 Sunward Steel joined with them to manufacture a new custom steel building.
Captivating and downright mesmeric, this steel multi-span recreational building stands 80'W x 112'L x 21'.5"/28'H and features a striking exterior that includes Kingspan high r-vale and efficient insulation panels in Arctic Blue with Polar White trim.
The EVO Bouldering Building
With three active locations in Louisville Colorado, Maine & New Hampshire, this Sunward building allowed EVO to add a new operative facility in Golden Colorado. Catering to people, sport & the art of rock climbing, this pre-fabricated building had to be adaptable to rock climbing apparatus' & professional climbing walls.
While designing this building our engineers took into account the need for high ceilings and reinforced support joists as people will be secured during activities. Additionally, the rock climbing walls were secured to the roof and steel supported substructure, therefore our engineers had to design the building with additional point loads; instrumental to the overall public & professional usage of the building.
The Quality Check
Here at Sunward we strive to produce the best of the best, top quality, American made building kits; and the EVO Bouldering building was no exception. We met and surpassed all building and safety standards set in place by the American National Standards Institute & the Union Internationale des Associations d'Alpinisme; strong & anchored, this building was manufactured to withstand years of due service.
"EVO Golden is a bouldering gym for dedicated, passionate climbers to get strong together." –The EVO Team.
Available Buildings & Budgeting
If you are working with an updated & impacted building budget, give us a call & we will work with you to get you a building. We manufacture our all of our buildings in house and we will get you a building you to fit your budget, call us, lets talk numbers, and lets get you a building!  We have specially priced buildings and brand new heavily discounted buildings that are amazing deals, take these off of our hands!
Are you considering purchasing a pre-engineered metal building for recreational, commercial, or retail use in Colorado or another part of the United States? Call us directly at 866.313.2736. We are also social media friendly, we would love to hear from you! Facebook – Instagram – Pinterest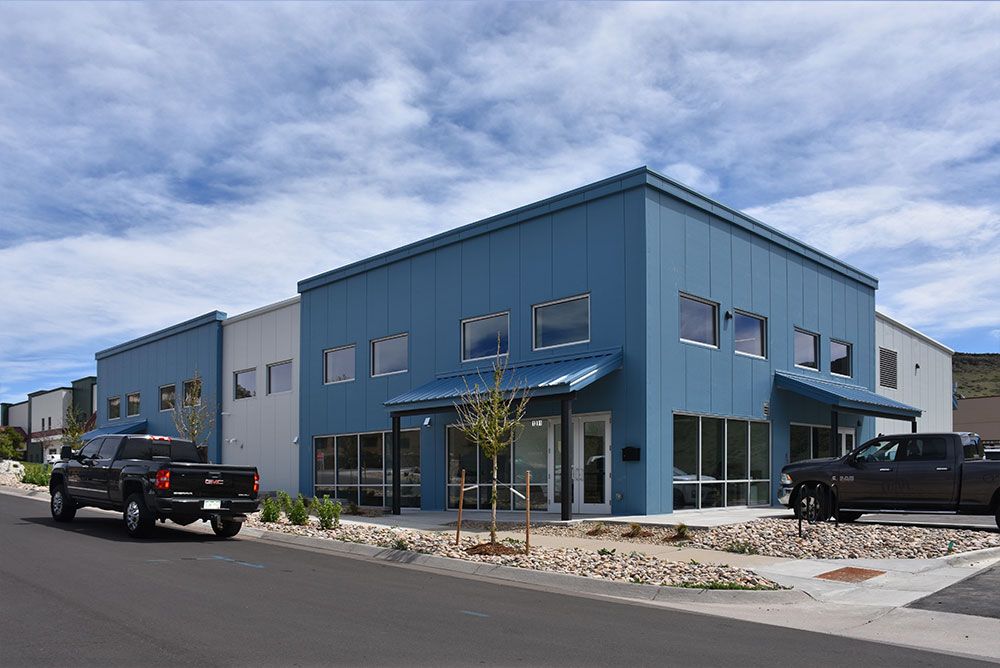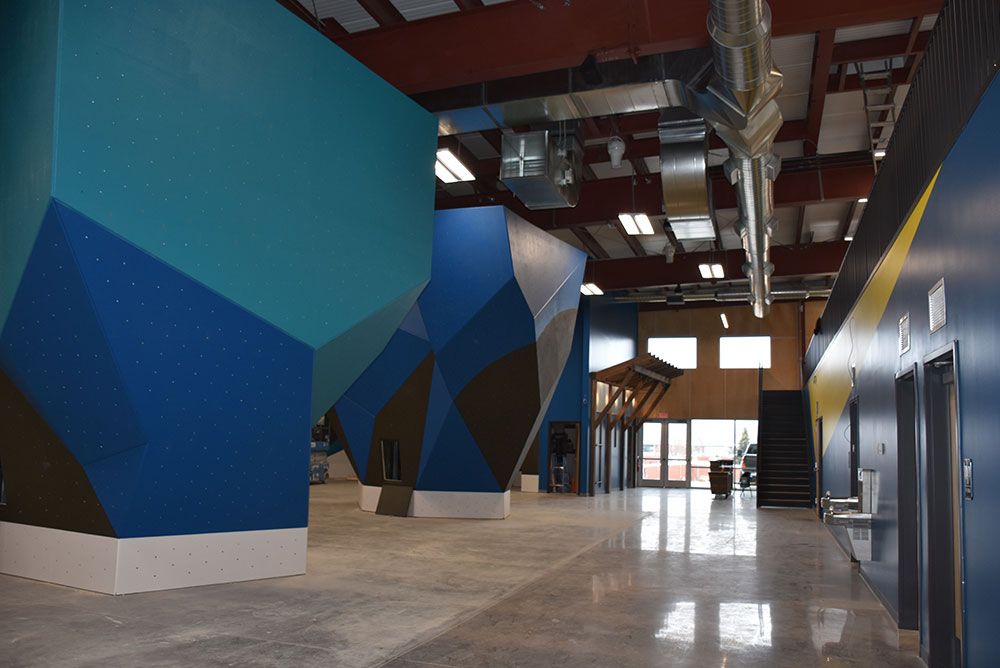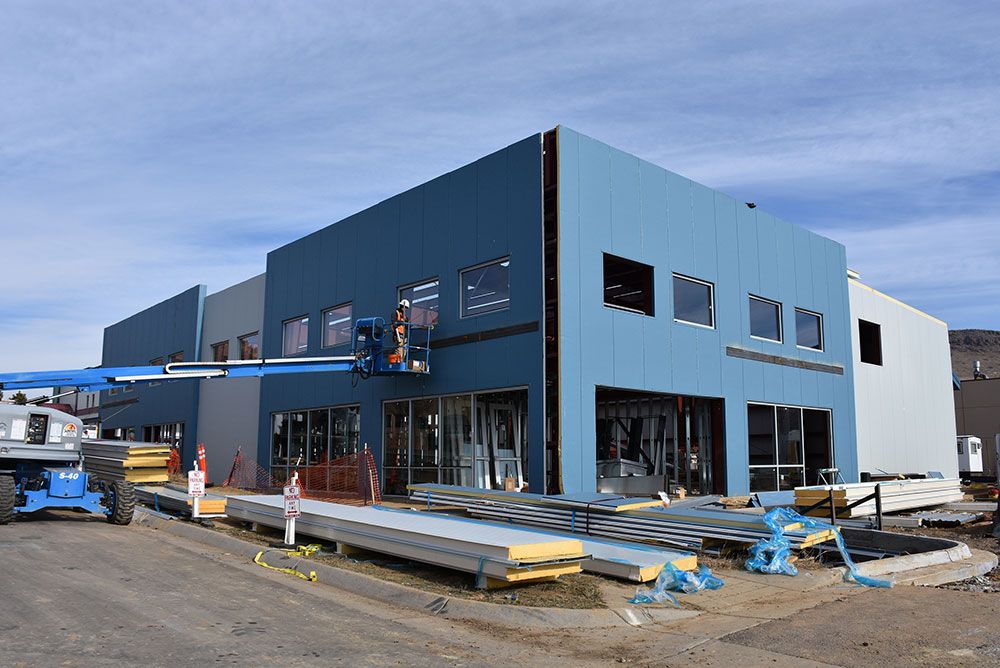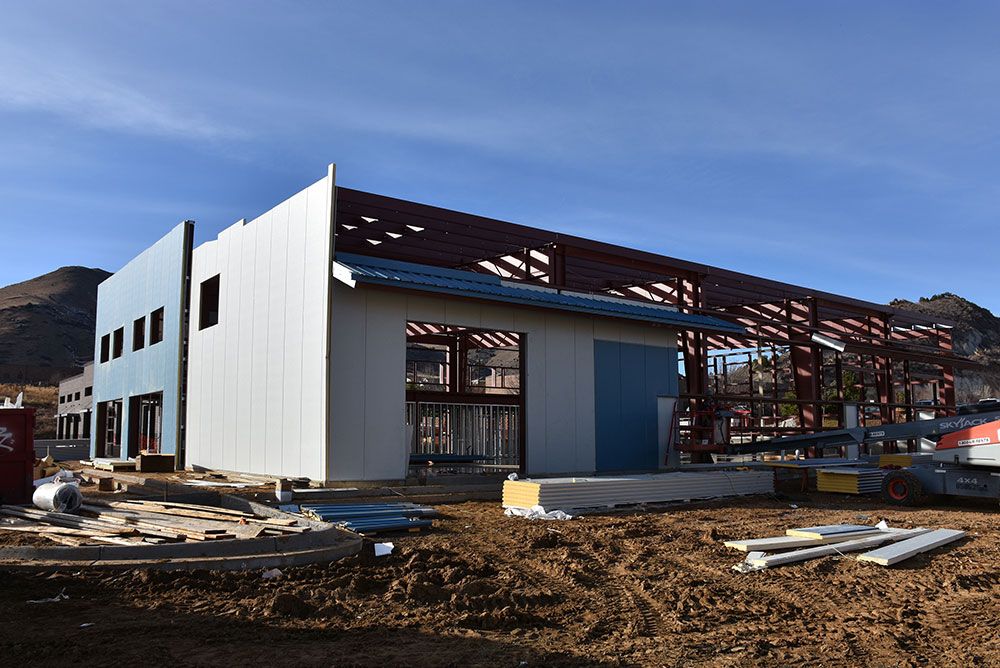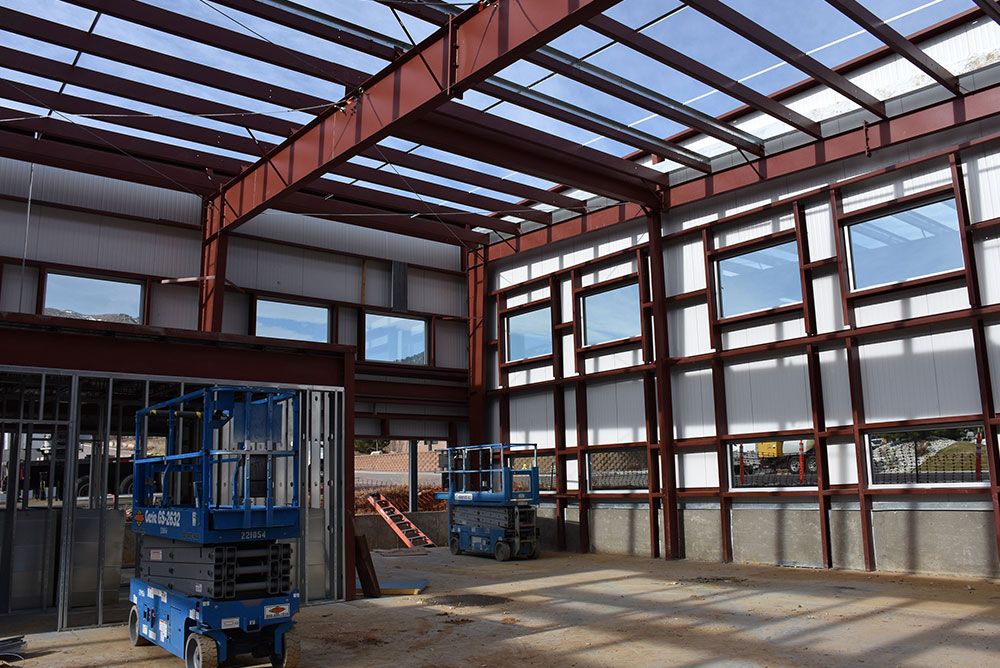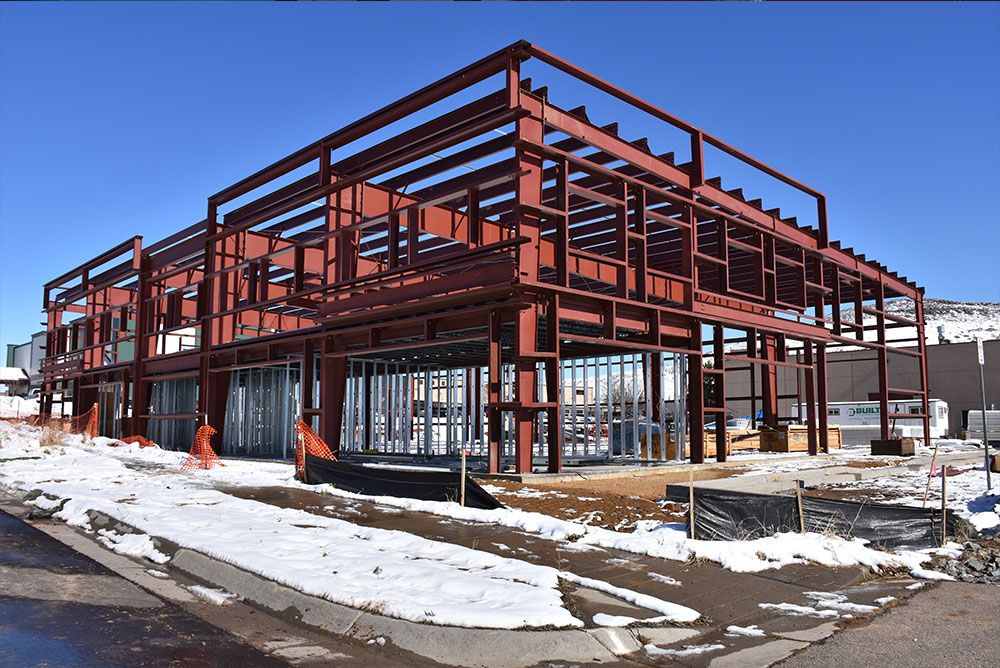 Building Specifications
Expansive and hardwearing, the building is 80'W x 125'L x 21.5/28.17H in size, offering a clear-span design that eliminates interior supports, freeing up more room for rock walls and other athletics. The gutters, fascia and accent trim are all Arctic Blue, with the metal recreational building's soffits and entrance canopies featuring a correlating package.
Comprised of commercial grade components, while providing unparalleled strength and durability, and it also has several enhancements that make it better-suited for life in Colorado. Regarding its climate-related customizations; the roof was manufactured with an impressive 150-mph wind speed rating due to Chinook winds.
The powerful Chinook winds originate off the Pacific coast, cooling as they climb the western slopes, and then rapidly warming as they drop down the eastern side of the mountains; nonetheless imperative that we design an anchored canopy that would be reliable for the complete life of the building.
The corrosion-resistant roof of the building is Polar White in color and standing with a purposeful 1:12 roof pitch. The roof also designed to hold a 30-psf snow load; which adheres to applicable building code requirements in place across the Centennial State. The gutters, fascia and accent trim are all Arctic Blue, with the metal recreational building's soffits and entrance canopies featuring a correlating package.
We love multi floor functionality and clear span space that allows for additional levels, and we included that option in this blueprint as custom mezzanine compatible. The building once erected includes a self-supporting mezzanine that increases usable floor space and creates a viewing area with offices and storage space.
Featured Sunward Steel Commercial Buildings