Pre-Engineered Steel Hockey Arena in Pine City, Minnesota
Sunward Steel Buildings., Inc., manufactured and supplied this prefabricated indoor steel arena on behalf of a customer in Pine City, Minnesota, in July of 1999.
Ever since, it has served as the Korbel Arena, an ice hockey arena on the grounds of the Pine City Civic Center. Operated by the Pine City Civic Center Association, a local nonprofit, the arena provides a safe, covered space for hockey players and enthusiasts to practice, compete and recreate. It also regularly undergoes use by the Pine City School District, the City of Pine City, Pine City Youth Hockey, Hinckley Youth Hockey and North Branch Youth Hockey, among others, and hosts weekly open-skate and open-hockey sessions for enthusiasts from across the surrounding community.
Affordable, Sustainable Athletic Arenas 
While this particular steel athletic arena houses a hockey rink, similar pre-engineered steel buildings have served a wide range of athletic and recreational purposes. Often purchased for use as tennis courts, gymnastics facilities, indoor soccer fields, horseback riding arenas and volleyball courts, prefabricated metal buildings offer the structural integrity athletic operations demand coupled with the easy customizability that lets buyers adapt each structure to their specific needs.
Frequently utilized by high schools, colleges and universities, athletic clubs and communities, pre-engineered steel athletic buildings provide safe and secure places for athletes and sports enthusiasts to hone their skills, regardless of outside weather or temperatures. This particular building has catered to the surrounding hockey community for more than 20 years, maintaining its aesthetic appeal and functionality tremendously well despite more than two decades of heavy use.
Located in east-central Minnesota, the city of Pine City is part of Pine County. Part of the Minneapolis-St. Paul metro area, the community lies about 63 miles north of St. Paul and about 68 miles from St. Cloud.
Considering purchasing a pre-engineered steel building for athletic, civic, municipal or other use in Minnesota or another part of the United States? Click here for a price quote.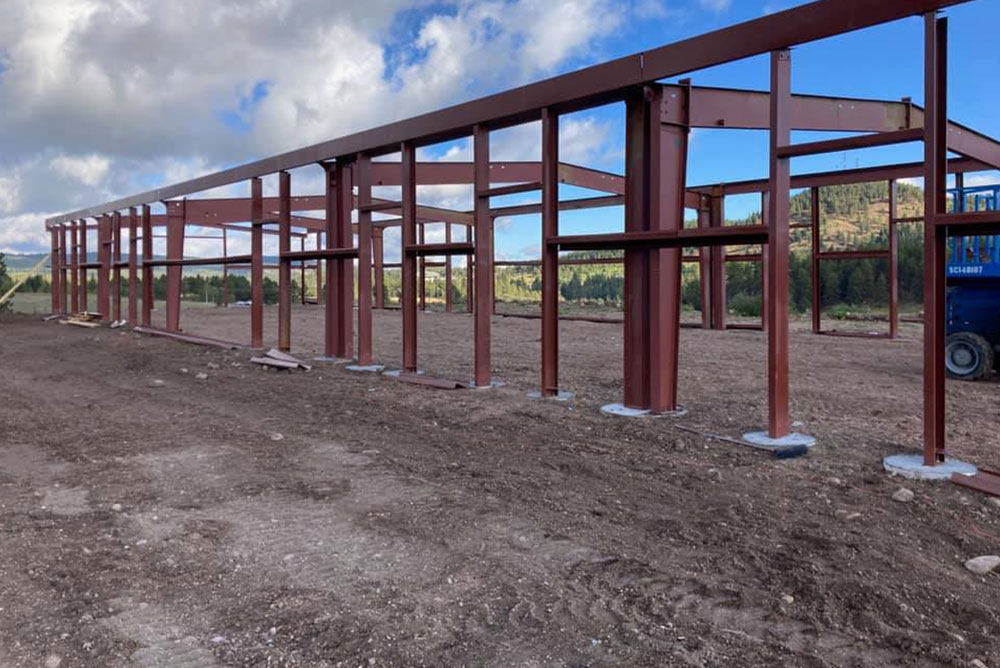 Building Specifications
Expansive, low maintenance and structurally sound, the metal hockey arena features premium-quality steel construction and is 120'x220'x20' in size once erect. It has high overhead clearance, making it ideal for athletic use and viewing purposes, and it also boasts a clear-span design that eliminates interior obstructions.
The building delivers ample curb appeal thanks to a bright White exterior and Dark Green roof trim, and the roof, itself, has a mild 2:12 pitch and is comprised of heavy-duty, corrosion-resistant Galvalume steel. An 80-mph wind speed rating serves as an additional feature added with respect for Minnesota's variable weather and wind patterns and the building codes in place across Pine City.
Featured Sunward Steel Hockey Buildings
See Some of Our Latest Projects