Metal Farm Building in Bennett, Colorado
Sunward Steel Buildings, Inc., fabricated and supplied this pre-engineered steel building for a customer in Bennett, Colorado, in December of 2020. 
Spacious, versatile and climate-controlled, the metal building features high-quality steel construction and serves as a safe, secure place to work or store vehicles, farm equipment and agricultural supplies. The structure also serves double-duty as a place to house livestock when conditions outside are unsuitable. Insulated and easy to raise, the metal farm building arrived at the erection site in partially assembled pieces to speed up construction and lower associated expenses.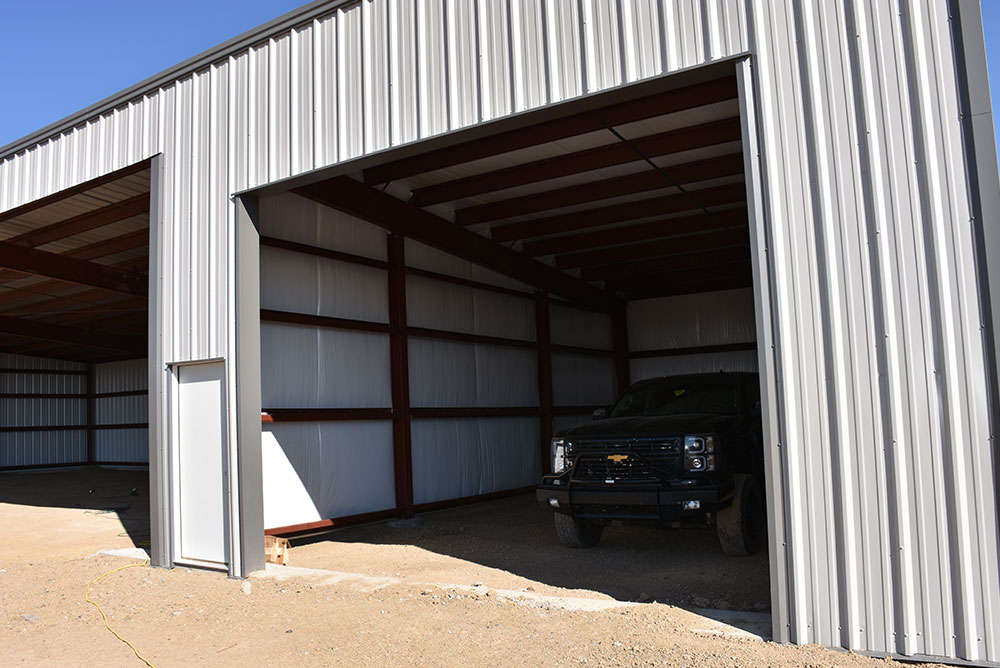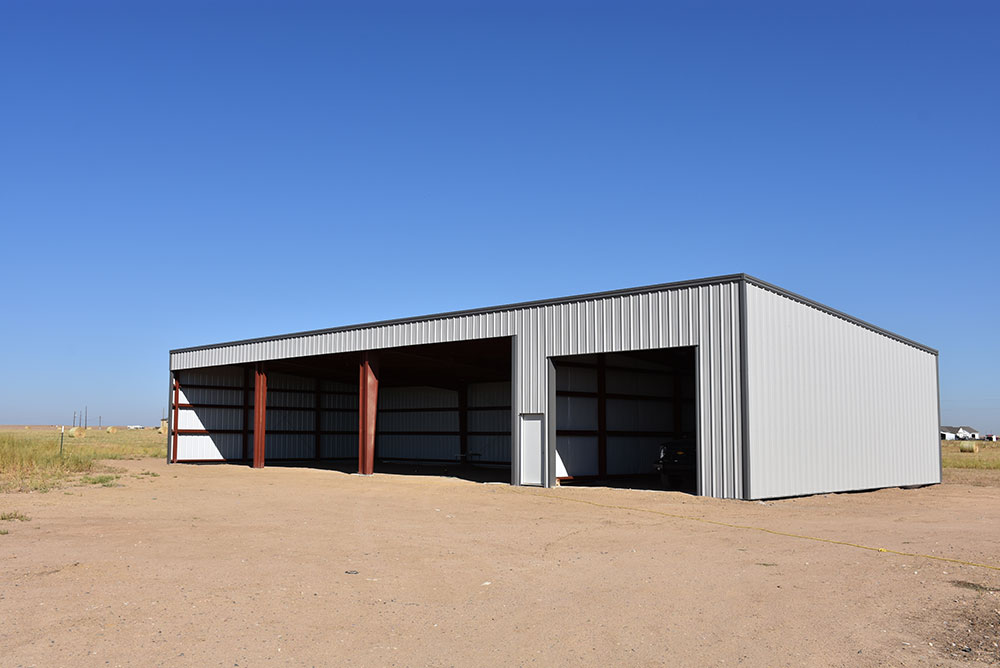 Building Specifications
Steel Garage Specs & Features  
Attractive and modern, the metal building features a Tan exterior and Gray architectural trim that enhances its curb appeal. When raised, the steel shop, shelter and storage building is 40'x100'x14'/17.33', and overhead, it features a hardwearing, watertight Galvalume single-slope roof with a 1:12 pitch. 
The metal building has (1) 16'x12' overhead door opening enclosing (1) 16'x12' insulated steel sectional overhead door, and it also has an open wall along one side that lets building users, vehicles and farm equipment in and out. An insulation package serves as another notable feature that enhances energy-efficiency while keeping interior temperatures comfortable and steady. 
The enclosed garage section of the metal building contains the insulation, with 3" of fiberglass insulation lining the building's roof and walls. The insulation has heavy-duty WMP-VRR facing on the side that faces inward, which helps protect the insulation against moisture and damage while giving this part of the building a clean, finished look. 
Economical, Sustainable Garages & Farm Buildings
Ideal for industrial and agricultural use due to their superior strength and durability and low-maintenance nature, metal farm buildings often serve as silos, stables, riding arenas and storage barns, among other common applications. Easy to configure when it comes to size, windows, doors, insulation and aesthetics, to name just a few areas, these buildings require far less maintenance than traditional wood construction but offer the same beauty and functionality as traditional barns and farm buildings. 
Engineered for the precise building codes and climate characteristics of the Bennett area, the steel farm building also features a 35-psf roof snow load and a high, 135-mph wind load. Part of the Front Range Urban Corridor and the Denver – Aurora – Lakewood metro area, the town of Bennett sits about a 27-mile drive from Aurora and about 35 miles east of Denver. 
Featured Sunward Steel Farm Storage Buildings