Steel Equestrian Arena in Franktown, Colorado
Used as a personal riding arena, the building is an expansive 110'x200'x16' when raised and features high ceilings and canopies that easily accommodate horses and riders. Comprised of heavy-duty, sustainable steel parts, the steel equestrian building boasts superior strength and durability and has numerous upgrades and customizations throughout, including a monitor-style roof with (6) cupolas and (2) octagonal windows in the center of the monitor.
Climate-Related Customizations
Franktown is prone to heavy seasonal snowfall, and this steel riding arena features several customizations intended to help prevent condensation and water damage caused by rain, snow and drifting snow. It has an eave gutter along both sides and (440) linear feet of downspouts that keep water from collecting on the roof.
The steel arena also has an 85-mph wind load and a roof snow load of 37.5 psf, which keeps it compliant with local building and engineering codes.
Ease of Assembly
Often a top choice among equestrian enthusiasts due to their robust, low-maintenance nature, steel equestrian buildings are also typically fast and relatively simple to raise. The mainframes for this particular building underwent assembly on the ground and then two cranes lifted and put them in place in a single day.
Part of Colorado's Denver – Aurora – Lakewood metropolitan statistical area, the city of Franktown is part of Douglas County. The community lies about 7 miles east of Castle Rock and about 45 miles north of Colorado Springs.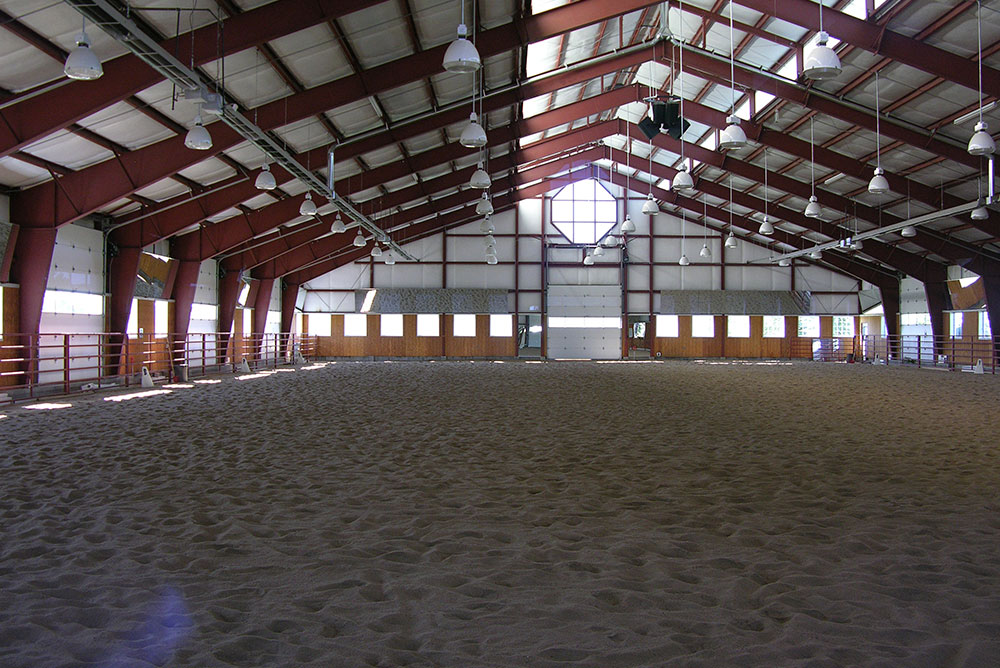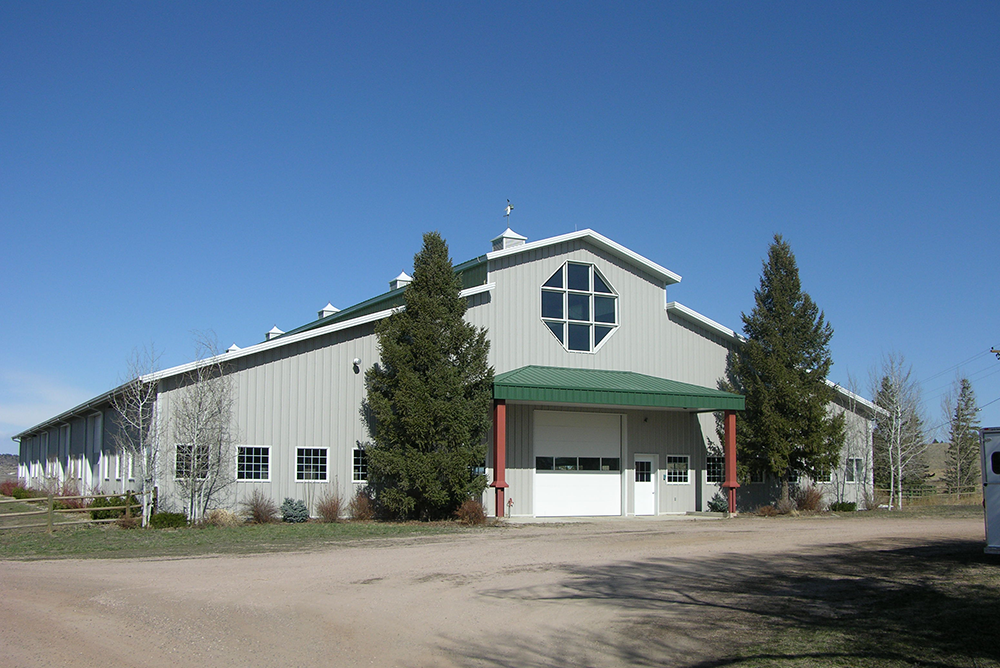 Building Specifications
Engineered to holds its own against heavy snowfall, extreme temperatures, pests and other Colorado construction hazards, the steel equestrian building boasts an eave canopy, an attached 10'x'20'x16' canopy with posts and a rugged, corrosion-resistant Dark Green roof with a 4:12 pitch. The rest of the building is Grey in color with complementing White trim, and there are (26) window openings throughout that allow natural sunlight inside the arena.
Additional customizations include (10) overhead door openings, (1) 4'4"x7'2" walk door opening enclosing (1) 4070 walk door with a window kit and (45) wall lights that illuminate the space, enhancing safety for horses and riders.
Featured Sunward Steel Equestrian Buildings