Prefabricated Metal Church in Golden, Mississippi
Sunward Steel Buildings, Inc. was the fabricator and supplier of this pre-engineered steel building in Golden, Mississippi, in 2005.
Currently, it functions as the Golden Central Baptist Church, a Christ-focused ministry that caters to the surrounding northeastern Mississippi community. The church community strongly believes that, "…the love of Jesus is best when shared," with this particular building providing a safe and comfortable space for kids, students, men, women and seniors to come together and worship.
Serving Northeastern Mississippi's Baptist Community
Golden Central Baptist Church offers standard Sunday services as well as services for its Small Group and Kid Central programs, the latter of which caters to kids from infancy through sixth grade. It also hosts Wednesday gatherings for its Kid Central, Youth Central, Prayer Meeting and Small Group services. Childcare is also available at this particular church building, and the congregation also uses the steel church for special events throughout the year.
Increasingly, religious organizations looking to erect affordable, attractive houses of worship are opting for steel church buildings, which typically cost far less than wood churches in terms of construction, erection and maintenance. Pre-engineered metal buildings are highly versatile and able to accommodate a variety of features desired by religious organizations, among them choir rooms, youth rooms, mezzanines, sanctuaries, offices and high ceilings.
Part of Tishomingo County, in the northeast corner of Mississippi, the village of Golden is home to just a few hundred inhabitants. The community lies about 245 miles northeast of Jackson, Mississippi, and roughly 75 miles west of Decatur, Alabama.
Considering purchasing a pre-engineered metal building for use as a church, synagogue, mosque or something else in Mississippi or another part of the United States? Click here for a price quote.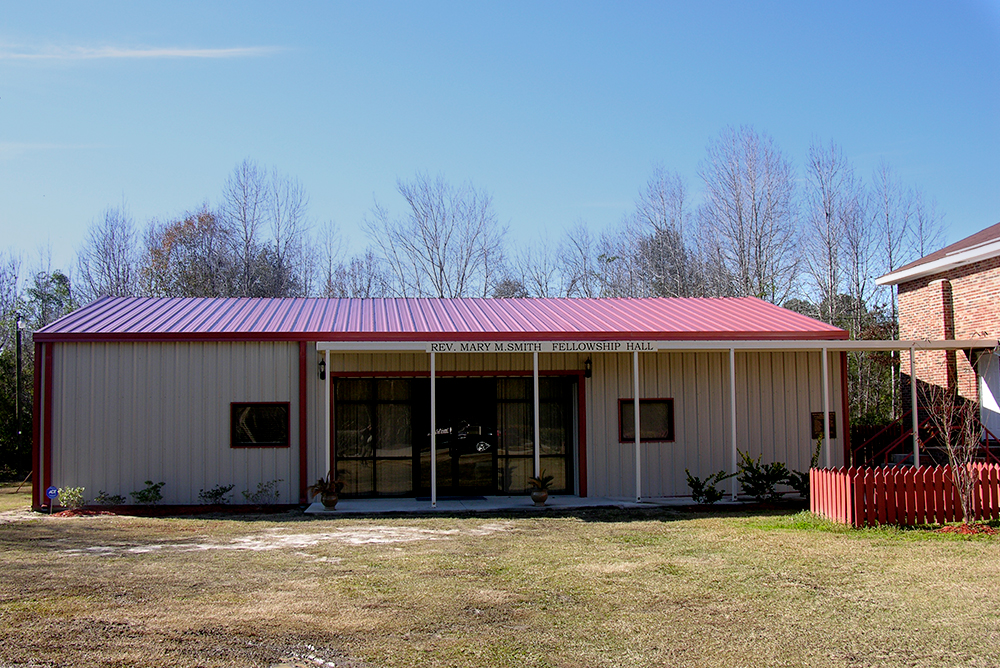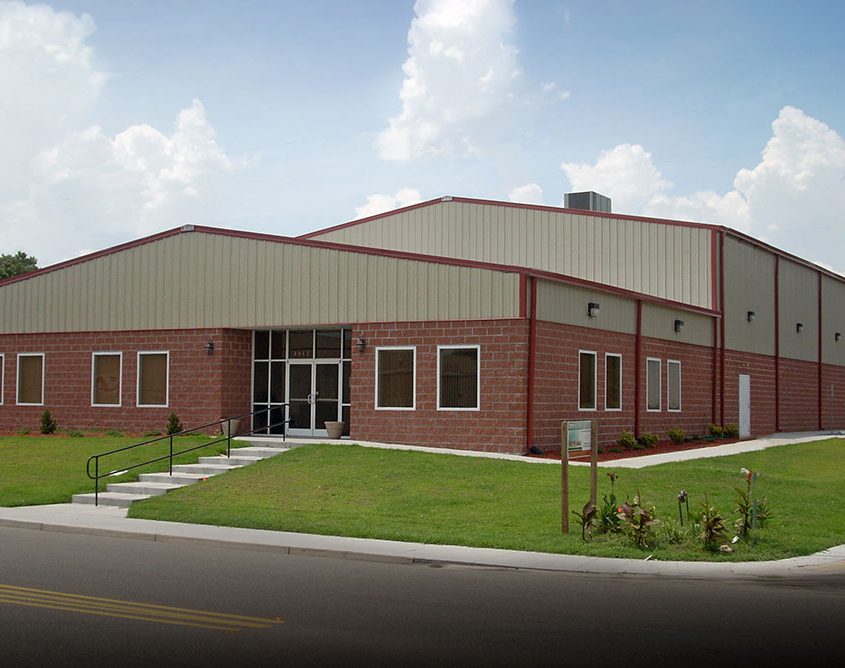 Building Specifications
Offering proof that today's steel buildings have just as much interior and exterior appeal as wooden structures while requiring only a fraction of the upkeep, this pre-engineered metal church boasts a striking, traditional church design and stands 90'x130'x25' in size. The exterior features a two-color brick-and-tan design, while the steel church's roof is Spanish Gold in color and offers a 4:12 pitch.
The prefabricated metal church boasts a number of special accommodations and features, among them a 6" white eave gutter along two sides and 480 linear feet of 5" downspouts distributed across 22 locations. Together, these features help divert water and moisture away from the church and its foundation, which in turn helps prevent condensation and mold.
Additional accommodations made in consideration of the region's building code requirements and typical weather and climate patterns include a 10-psf snow load and a 90-mph wind speed rating. The Golden area typically sees more annual rainfall than the average American city, and humidity, too, is often high throughout the region.
Featured Sunward Steel Church Buildings