Insulated Steel Farm Building in Harleyville, South Carolina
Sunward Steel Buildings, Inc., fabricated and supplied this pre-engineered metal farm building for a client in Harleyville, South Carolina, in February 2020. 
Insulated, customized throughout and engineered for the precise climate characteristics of the area, the spacious, clear-span metal building now serves as a farm shop. The steel farm building offers optimal structural integrity thanks to high-quality steel construction and gives the property owner a dry, secure place to house tractors, feed or other agricultural equipment or supplies. 
An insulation package helps ensure comfortable interior temperatures and low energy bills year-round, and an attractive, Hunter Green exterior with Polar White architectural trim gives the farm building impressive curb appeal. 
Steel Farm Shop Specs & Features 
When constructed, this metal farm shop is 40'x60'x16' in size and features high ceilings and an unobstructed interior that maximizes space for storage or other use. Comprised of heavy-duty, 26-gauge steel parts, the building holds its own against extreme weather, pests and other common construction hazards and requires very little in terms of maintenance when compared to wood construction. 
Overhead, a hardy steel roof with a 1:12 pitch and Polar White gutters and Hunter Green downspouts offers steady protection from the elements, and (4) door openings offer access inside. Included are (1) 3070 opening enclosing (1) 3070 commercial man door and (3) 14'x14' openings housing (3) 14'x14' insulated steel sectional overhead doors. There are also 4" of WMP-VRR-faced insulation installed in the farm building's roof and walls, with the heavy-duty facing material serving as a barrier of protection against condensation.
Fabricated to comply with or exceed all building code requirements in place in Harleyville, the steel farm building also features a roof snow load of 3.5 psf and a high wind rating of 133 mph. 
Economical, Low-Maintenance Metal Farm Buildings
A top choice among farmers and ranchers looking to house feed, tack supplies, farm equipment and other assets, prefabricated metal farm buildings are easy to design, erect and maintain in comparison with wood buildings. This particular steel farm building sits on the same property as the owner's home, and its exterior paint colors ensure it blends well with the surrounding natural landscape.  
Located in Dorchester County in south-central South Carolina, Harleyville is part of the Charleston – North Charleston – Summerville metropolitan area. It sits about 68 miles southeast of Columbia and about 45 miles outside Charleston.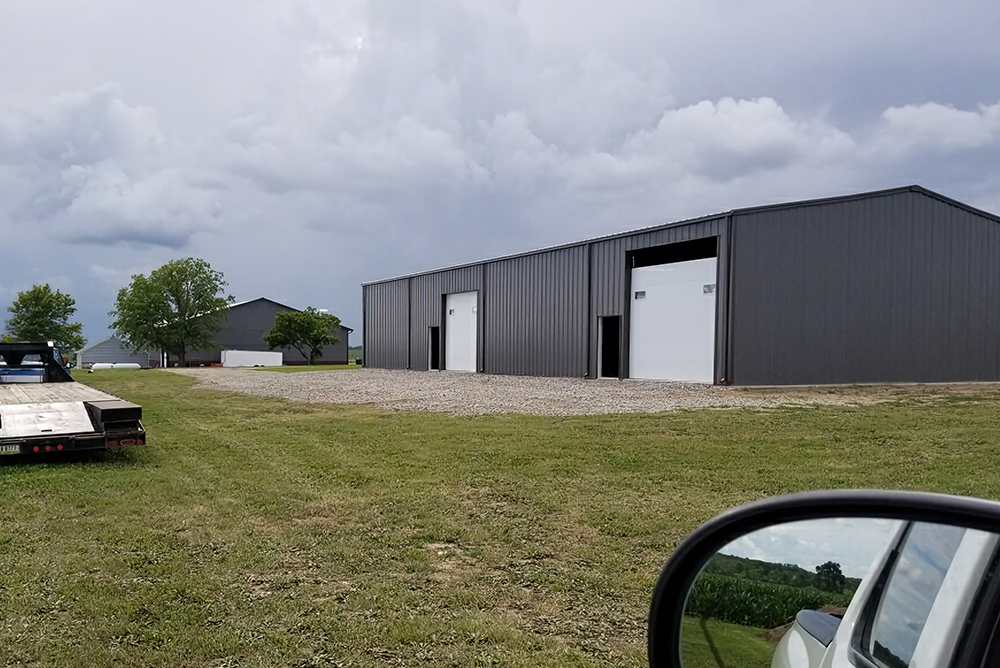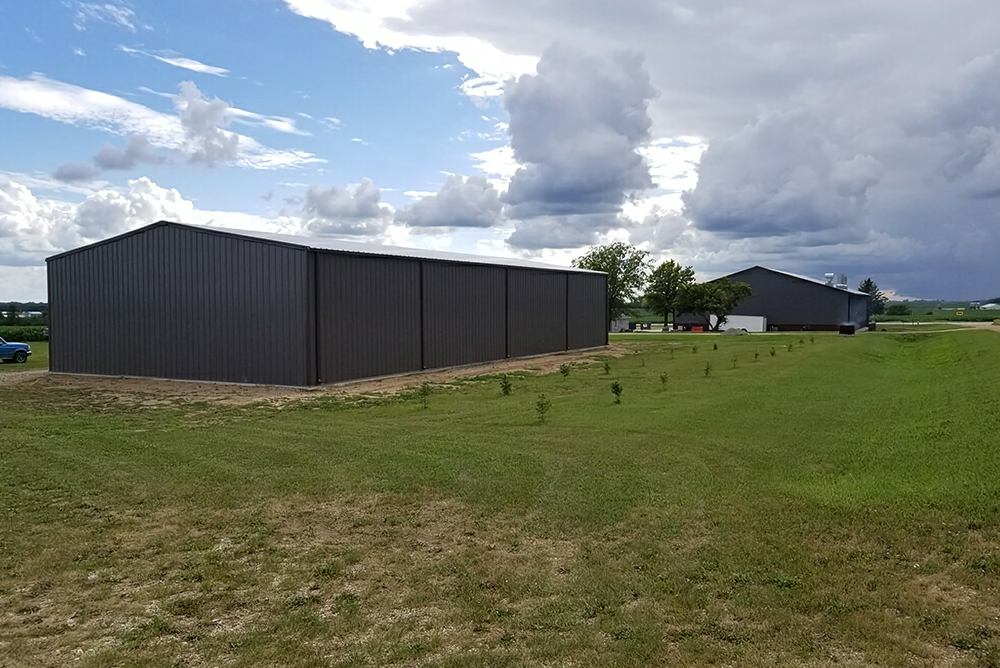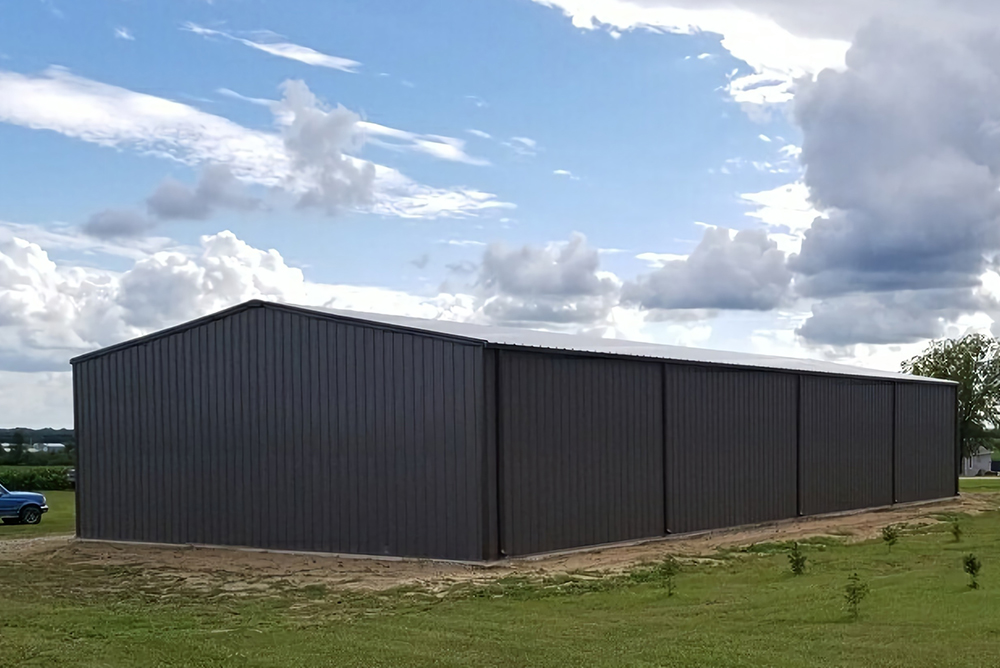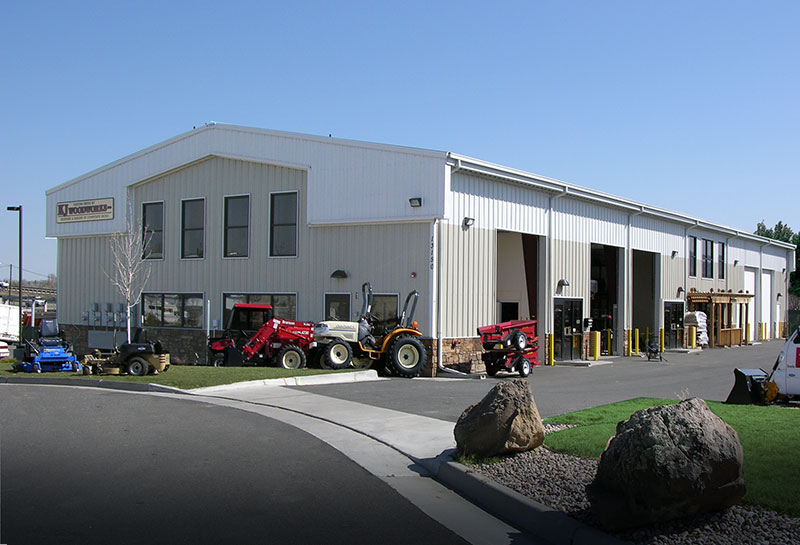 Featured Sunward Steel Farm Storage Buildings