Steel Public Works Buildings in Sheridan, Colorado
Sunward Steel Buildings, Inc. was honored to manufacture and supply these (3) pre-engineered steel buildings in Sheridan, Colorado.
Currently, the (3) steel structures serve as municipal buildings for the Cherry Hills Public Works Department, which is responsible for maintaining streets and parks across Cherry Hills Village, an affluent community located about 8 miles south of Denver.
The department handles a broad range of efforts related to maintaining the village's infrastructure, including managing, servicing, and repairing the community's buildings, curbs and gutters, streets, parks, storm drains, and trails.
Sustainable, Economical Municipal Construction Solutions 
An increasingly popular construction option among cities and towns looking for long-lasting, affordable government or municipal buildings, pre-engineered steel structures are typically easier and cheaper to erect than wood buildings, and they also resist damage caused by snow, rain, pests, fire, and other hazards that can wreak havoc on wood construction.
Ideal for firehouses, town halls, public libraries, schools, and similar structures, steel municipal buildings are inherently low maintenance, helping communities save money and time they can put toward other efforts. These particular buildings enable the members of the Cherry Hills Public Works Department to better serve the surrounding community while ensuring that the village's roads, trails, and other public areas remain usable and intact.
A home-rule municipality set within Colorado's Arapahoe County, Cherry Hills Village falls within the Denver – Aurora – Lakewood, CO, Metropolitan Statistical Area. The community lies about 4 miles north of Greenwood Village and about 2.5 miles outside Englewood.
Interested in purchasing a pre-engineered steel building for government, municipal or other use in Colorado or another part of the country? Click here for a price quote.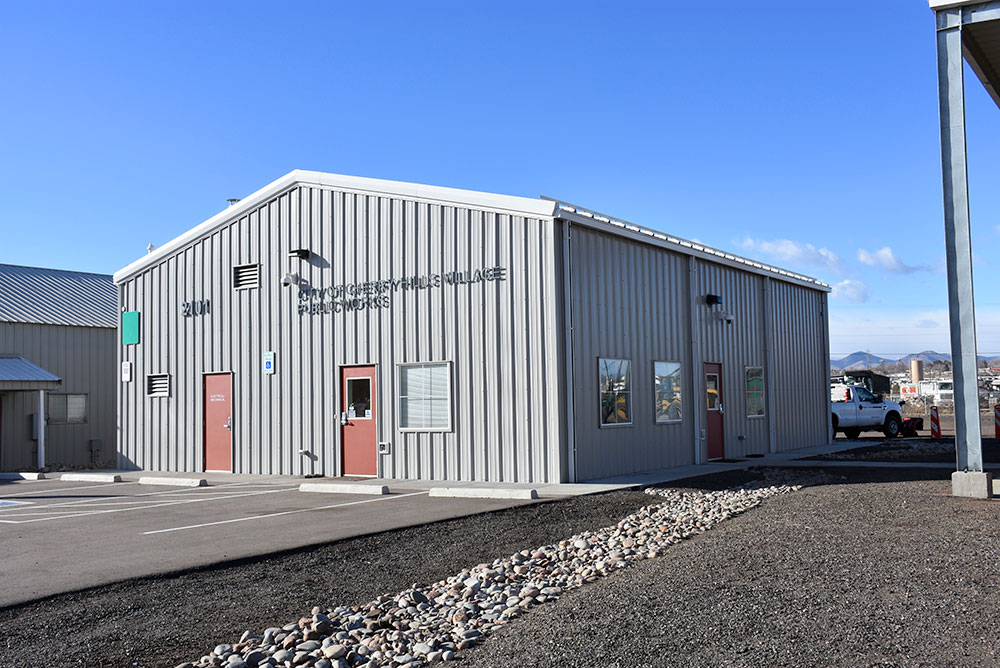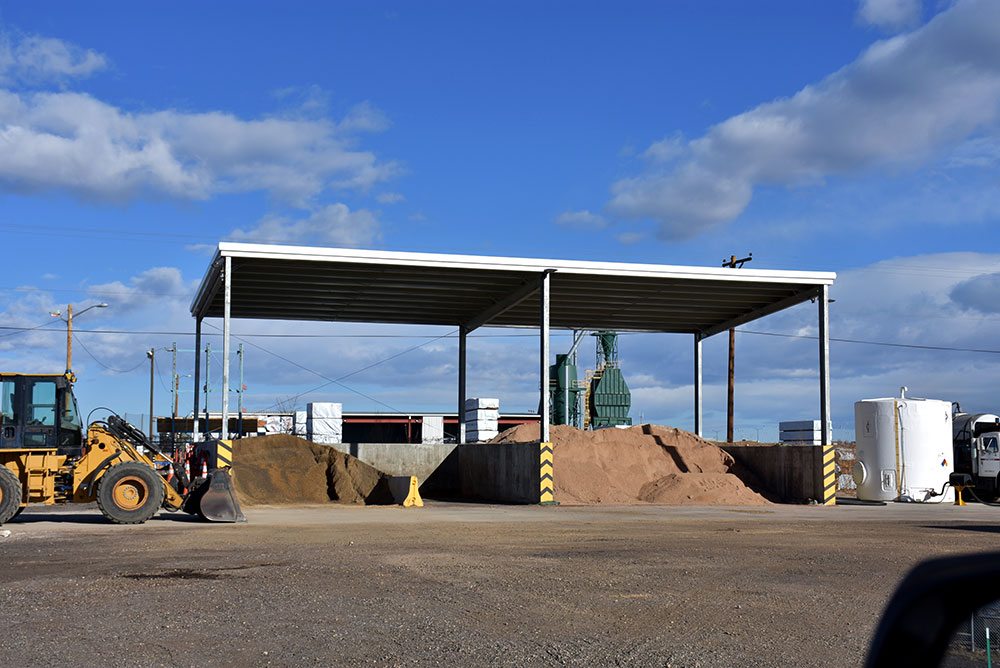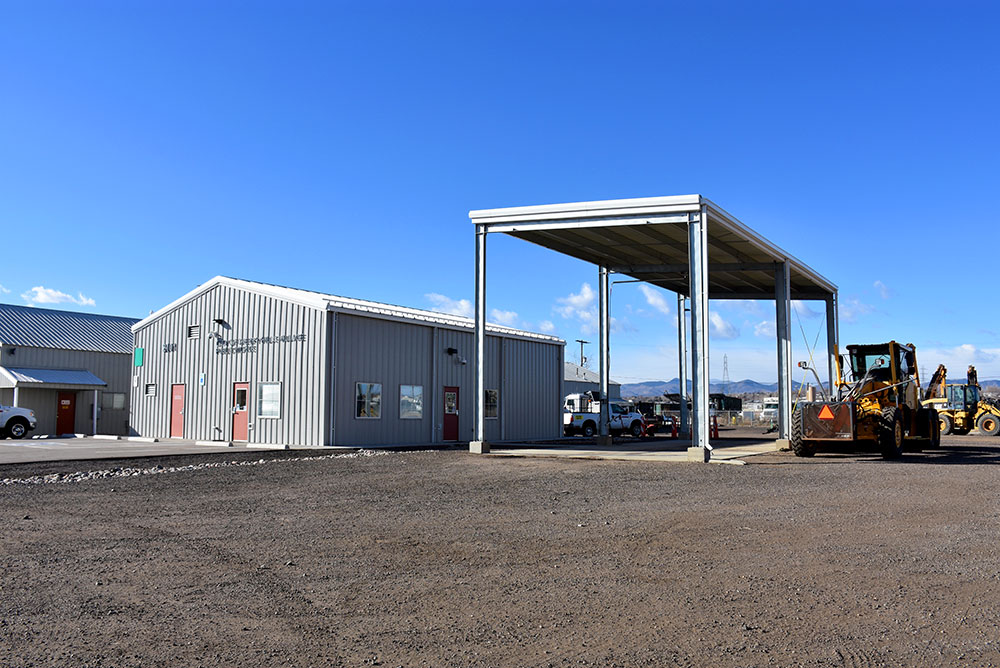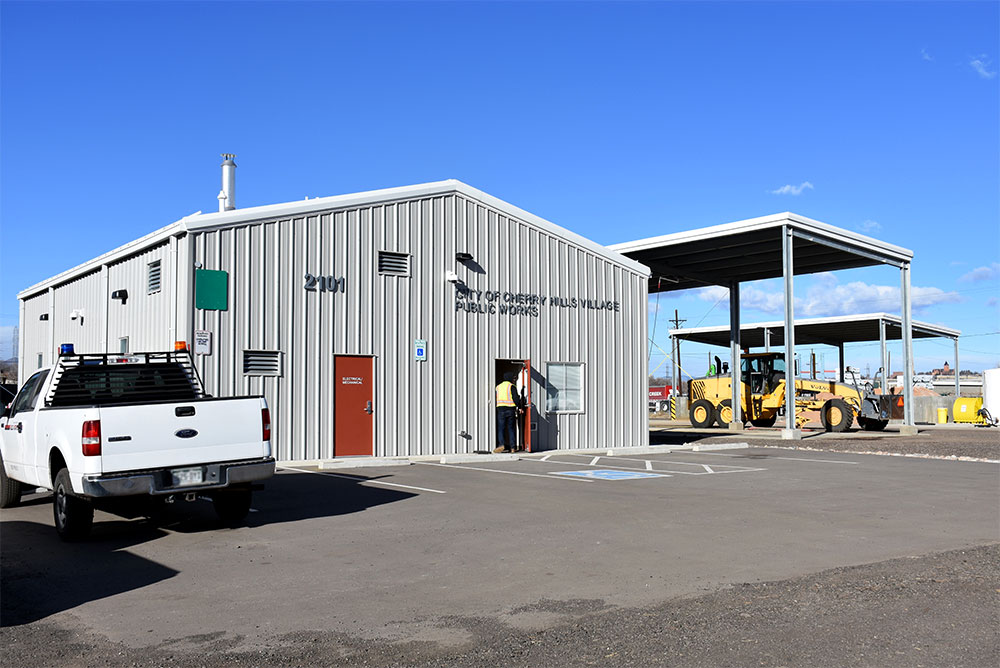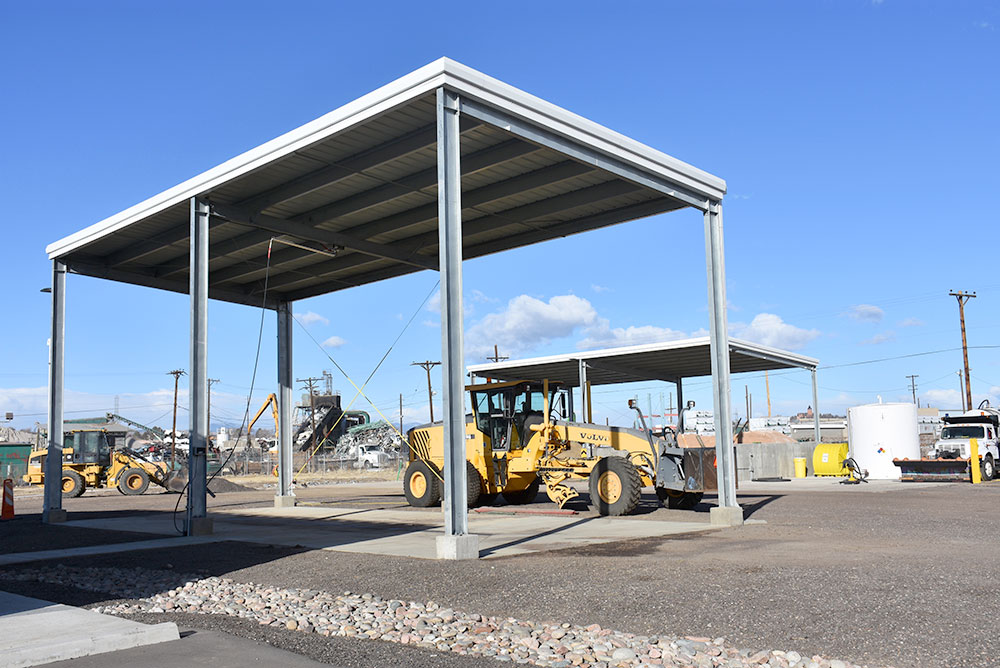 Building Specifications
All (3) prefabricated metal municipal buildings are comprised of hardwearing, premium-quality steel components, ensuring optimum strength and durability, and all (3) structures differ in size. The first structure, which serves as the department's main building, boasts a finished size of 40'x50'x15', while overhead, it features a rugged, corrosion-resistant standing-seam steel roof with a 3:12 pitch.
This insulated, energy-efficient structure houses the maintenance department's administrative offices and locker room, and it features an attractive Ash Gray exterior with a nicely complementing white trim.
A high-performance insulation system helps keep department workers cool in the summer and warm throughout Colorado's long, sometimes bitterly cold winters, with the building boasting R-38 double-layer H-r value insulation within its roof and R-30 insulation within its walls.
In addition to enhancing energy efficiency, the insulation system serves as a sound barrier while reducing energy bills associated with the building. The locker room, meanwhile, features a special opaque tint on the windows to prevent passersby from being able to see inside.
The second steel municipal building, which functions as an enclosed salt shed and storage building for related materials, stands 30'x60'x20' in size and features galvanized framing for the salt that helps prevent corrosion. The third pre-engineered metal municipal building, meanwhile, which functions as a truck wash canopy, stands 22'x50'x20' in size and is a roof-only structure with a 1:12 roof pitch.
Featured Sunward Steel Government & Municipal Buildings
See Some of Our Latest Projects