Steel Building Insulation Systems
Energy is not visible to the naked eye, therefore you cannot see it escaping your building, but without proper insulation you will experience energy loss. Insulation can be installed in steel buildings to create a thermal barrier that will help control the rate of energy loss as well as helping to prevent condensation. Using quality, high r-value insulation materials will improve the thermal performance of your overall system and save money on heating and cooling costs.
We have gained valuable experience over many years in the steel building industry, and have developed effective energy efficient steel building insulation systems. From basic quality single layer insulation systems to high performance thermal insulation systems, we are advocates for more insulation and maximizing the thermal performance values.
Steel Building Insulation Benefits:
Increases Energy Efficiency
Reduces Condensation
Prevents Mold Growth
Improves Noise Control
Improves Interior Environment
Money spent upfront in insulation costs will be paid back through reduced energy bills, smaller mechanical systems and enhanced comfort levels for the occupants.
Insulation Systems Available
Single Layer
Single Layer Insulation System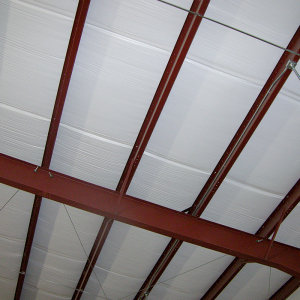 When installing a single layer insulation system into a steel building, one layer of Fiberglass insulation is usually placed over the top of the roof purlins and/or on the outside of the wall girts before the exterior panels are secured. Then the vapor barrier facing is placed with the faced side towards the inside of the building, this will give the building interior a clean finished look. The thickest insulation system that can be achieved using a single layer of insulation is 6″; this results in a final r-value of R-19. Anything thicker than 6″ will cause the sheeting material to develop an oil can or wave effect. If you want to achieve a higher R-Value than R-19 a Double Layer System or energy saver system is required.
R-Value is the measurement of effectiveness of thermal performance given for insulation materials. The thicker the fiberglass blanket, the higher the R- value. All R-values listed below are determined with the insulation uninstalled. Compression of the insulation blankets will reduce the R-values given, use measurements of uncompressed open fluffed insulation to determine your insulation systems true R-value.
Fiberglass Insulation R-Values
INSULATION THICKNESS

2.75″
3″
3.5″
4″
6″
DOUBLE LAYER
3″+6″
3.5″+6″
4″+6″
2 5/8″+8″
3″+8″
6″+6″
3″+9.5″
4″+9.5″
R-VALUE

R-8
R-10
R-11
R-13
R-19
HIGH R
R-29
R-30
R-32
R-33
R-35
R-38
R-40
R-43