Tips for Dressing up Your Steel Building's Exterior
July 22, 2022 | Accredited Steel Building Manufacturer Insider Tip
Do you think steel buildings have to be boring or look like a warehouse or barn? Think again. These days, there's a near-endless stream of design opportunities at your fingertips when you opt for a prefabricated steel building, so you can essentially design yours to have the curb appeal you want.
Maybe you plan to open a school with a traditional red-brick facade, or perhaps you're planning to live in a steel home, and you want an exterior that blends well with that of your surrounding neighborhood. Maybe you plan to run a business out of your building, and you want the strength and flexibility that comes with a steel building, but the architectural appeal of a professional, upscale office complex. Regardless of whether you plan to use your steel building for personal, commercial, or other use, you can get all the benefits of steel construction without having to settle for a boring, industrial-looking exterior. Here's how.
Change the Roof Line 
Your metal building doesn't need to look flat or boxy, and one way you can make sure it doesn't is by changing the roof line. Consider increasing the roof pitch to create a more noticeable slope, or adding a cupola to create a traditional barn-style look. You can also opt for a "hip roof," which slopes inward on four sides, as opposed to two, as is the case with more traditional gable-roof systems. Other ways you break up your roof line involve adding eave extensions, which extend beyond the roof itself, helping block the sun, or by opting for a clerestory roof, which features a vertical wall (usually adorned with windows) between two sloping sides. If you do want a roof to have a flat profile, you can add parapets to hide any visible slope.
Add Custom Finishes
 A custom exterior finish can go a long way in terms of enhancing your steel building's curb appeal, and you can choose from any number of materials, depending on the look you're after. Choose from stucco, brick, faux-stone or colored-panel designs, among others, and add as much or as little as you like. Cover the entire exterior, install custom panels in different directions or opt for wainscoting, which typically covers just the bottom portion of a building – the choice is yours.
Custom Doors and Windows
When it comes to doors and windows, if you can use it on a traditional wood building, you can use it on a steel one. In addition to coming in numerous styles, steel building doors are available with insulation or without and with a wide range of hardware options, allowing you to maximize security without sacrificing aesthetic appeal. You can also utilize windows and skylights in any number of different shapes and sizes, depending on how much sunlight you want streaming inside.
Simply put, a steel building doesn't have to look boxy or boring. If you love the benefits and low costs of ownership that come with metal construction, but you want something that also delivers considerable street appeal, cross both boxes with a pre-engineered steel building.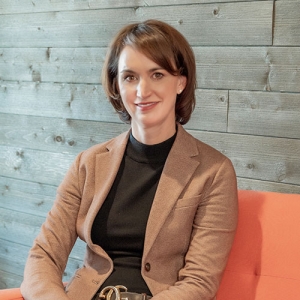 Written By:
Amy Wirth
President
Sunward Steel Buildings, Inc.