Special Considerations For Steel Equestrian Arenas
When you purchase a steel equestrian arena that you plan to use for riding purposes, you must make sure the building safely and appropriately accommodates horses and riders. Sunward Steel has deep roots in farming and agriculture, and we have extensive knowledge about what it takes to engineer a building for this type of use.
A top choice for horse barns, stalls, arenas and hay storage due to their affordable, versatile and fire-resistant nature, prefabricated metal equestrian buildings are also easy to customize in line with your unique needs. When designing and engineering a metal building intended for equestrian use, keep the following in mind.
Steel Equestrian Buildings Need Adequate Clearance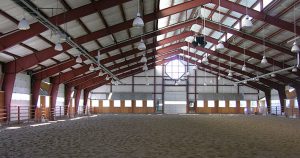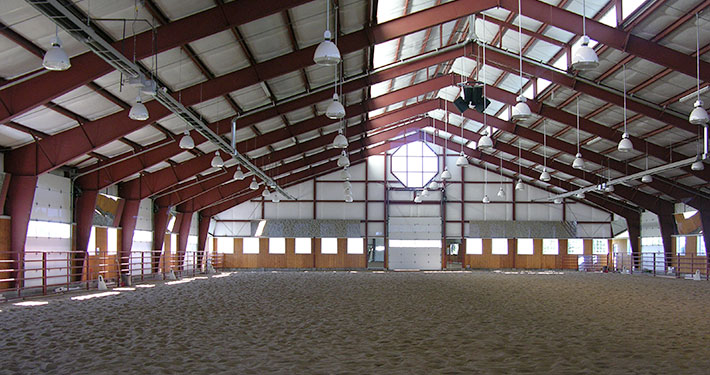 Metal equestrian arenas need to have high overhead clearance to safely accommodate animals and riders. These buildings must also leave enough room in the interior for riders to move about without hitting their heads or legs on any internal columns. Sunward Steel can help your building achieve maximum clearances so that you get the most use out of the floor space you have available.
Steel Arenas Need Sufficient Eave Heights
Sunward Steel can also help ensure that your building has adequate eave heights. Appropriate eave heights are necessary to ensure a safe riding experience. Proper ventilation is also vital in an equestrian building, and we can help you configure your building's eave height to allow for proper ventilation.
Steel arenas need appropriate building widths
Your metal equestrian building should be wide enough to give horses and riders plenty of room to roam, stop and turn around. If you plan to use your arena to show horses or conduct lessons, you may also want to leave enough room for a viewing area along the perimeter of the building.
Steel buildings need appropriate ventilation 
It is also important that you make sure your metal equestrian arena has proper ventilation. Adding ridge vents or wall vents to your building serves several important purposes. First, such customizations help reduce the amount of dust that circulates through your building when horses kick it up, which helps protect the health of animals and riders. Second, these features help hot air escape during warmer months, creating a more comfortable environment for horses and equestrian enthusiasts alike.
When it comes to designing and engineering steel horse arenas, not all suppliers uphold the same standards. Sunward Steel has designed and engineered more than 50,000 steel buildings since its inception and has cemented itself a trusted, reliable supplier of pre-engineered steel equestrian buildings. For more, check out SunwardSteel.com or click here for a price quote.
View Some Featured Sunward Projects