Factories Proudly Located in North Dakota
Sunward Steel Buildings was founded in the 1970's in North Dakota.  Although the headquarters were moved to Colorado, two of our full functioning factories remain in Jamestown, North Dakota. We ship to all jobs in the western half of the United States from these two Jamestown, North Dakota factories. Although we supply all Steel Building types, many of our North Dakota supplied steel buildings are for the oil field and agricultural industries. Sunward has delivered buildings to most cities and counties in North Dakota over the years including Bismark, Williston, and Fargo.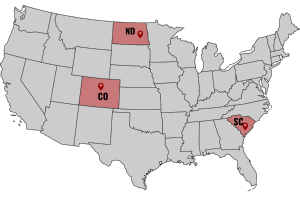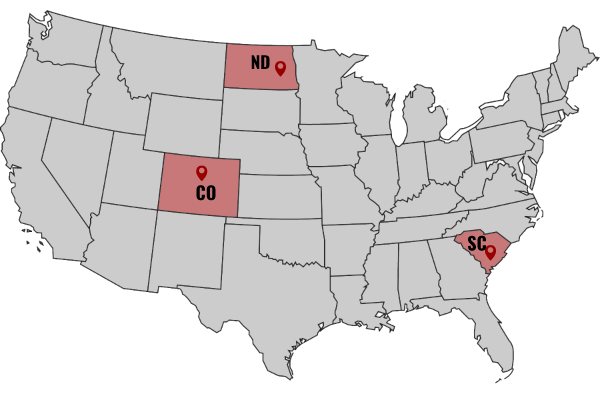 Metal Buildings Made For Life In North Dakota
 North Dakota building owners need more than just low maintenance, long-lasting building solutions – they need exceedingly durable structures that will maintain their strength despite heavy snow, strong winds and other harsh climate conditions.
At Sunward Steel, we have spent nearly 50 years fabricating pre-engineered steel building kits for use in variable climates, and we have provided more than 75,000 building kits for satisfied buyers across North Dakota, the nation and the globe. North Dakota's building code requirements are in place to enhance safety, and we can supply you with a strong, sturdy steel building that meets or exceeds all code requirements currently in place in your area.
North Dakota Steel Buildings
Whether you're looking to expand your business or simply secure more storage or space, Sunward Steel can provide you with an affordable steel building solution that fits your needs. We commonly source the following metal building types in your area, among others:
Automotive buildings
Mini storage facilities
Churches
Gyms, recreation centers and equestrian arenas
Schools
Offices
If you are in search of a solid, reliable building you can count on to stand strong for generations, consider a prefabricated metal building kit from Sunward Steel.
The Many Benefits Of Steel Construction
Love the strength and durability of steel, but worried it won't offer the look you would like? While, once upon a time, most steel buildings boasted basic, similar exteriors, today's metal buildings are both attractive and highly customizable. Additionally, when compared with wooden buildings, steel structures:
Are faster and cheaper to erect. Your pre-engineered building kits arrives to your jobsite pre-cut and ready to erect, meaning you don't have to pay much in labor costs and should be able to use your building in a few short days.
Are easier to maintain. Termites, warping and rotting are problems you will likely encounter if you invest in a wood building, but steel construction helps you avoid these issues and the related headaches and expenses.
Are better for the environment. Deforestation is taking a serious toll on the globe, but the increasingly widespread use of steel as a building material is helping lessen the blow. Steel is recyclable, meaning your building can serve a different purpose once you are done with it.
Have questions? Ready to roll? Get in touch today to find out more about making your North Dakota metal building a reality.
Featured Sunward Steel Buildings in
North Dakota
Cities in
North Dakota

That We Have Supplied Steel Building Kits For