Prefabricated Storage Building in Johnston, Rhode Island
Sunward Steel manufactured and delivered this prefabricated storage building kit in Johnston, Rhode Island.
Sunward has designed, manufactured & delivered religious metal buildings across the globe. We take pride in our House of Prayer property portfolio, whether the need is for a temple, tabernacle, chapel, cathedral, sanctuary, or synagogue, our metal building kits offer endless design compatibilities. We have a steel building kit for every denomination, every project, every property, every mission; either stateside or international.
Sunward & St. Brigid
Serving the Pocasset community for 105 years, the St. Brigid Church is home to daily Mass services, liturgical celebrations, annual craft fairs, and other Johnstown gatherings. This close-knit congregation is dedicated to cultivating the founding faith by guidance, sanctity & servitude of Catholicism within the parishioners and community en-masse.
The Roman Catholic Diocese of Providence contacted Sunward Steel Buildings with a request for a prefabricated storage building kit in Rhode Island.
The Absolute
This pre-manufactured storage building kit was engineered with a 110 MPH wind speed rating to accommodate the fluctuating weather typical of the East Coast. From tropical humidity in the summer to arctic air in the winter months, Nor Easters to hurricanes, our canopy systems guarantee an anchored and secure roof year-round.
Sunward's exclusive Seal Tight Closure System & Syphon Groove Technology certifies as our Preventative Water Protection Plan. We guarantee a dry interior with dry insulation for the complete life span of the building.
Do you have a building project that you would like to get down on paper? Do you have questions? We are professionals, with pre-manufactured steel buildings and metal building kits of all sorts as our specialty. We would love to speak with you, you can reach us at info@sunwardsteel.com or you can click here to contact us for a free quote.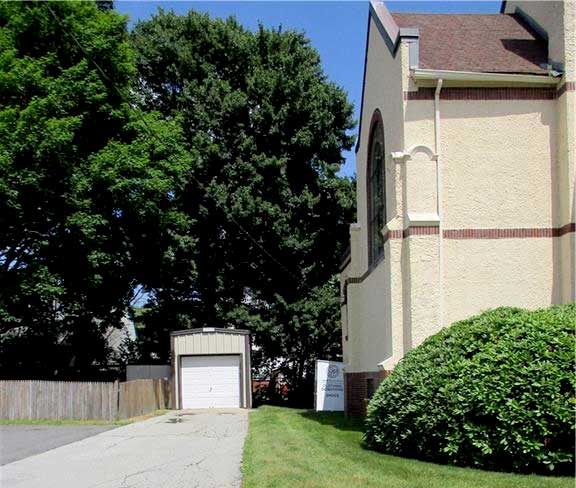 Building Specifications
With simplicity as the main directive, this straight-framed building stands at 10'W x 20'L x 10'H in size, with a purposeful galvalume fitted 1:12 roof pitch. Upon completion, a Stone Beige color graces the steel wall paneling and is perfectly paired with a Burnt Slate trim package. This smart-styled building stands in the back garden of the church, well-suiting the symmetrical shapes of this ecclesiastical & picturesque property.
Featured Sunward Steel Self Storage Buildings