Steel Ranch Pavilion in Payson, Arizona
Sunward Steel Buildings proudly manufactured and supplied this pre-engineered steel pavilion in Payson, Arizona.
This steel roof-only building functions as the ranch pavilion, and as the trendy community hub for the newly established Canyon River Ranch, a developing residential community catering to equestrians and the equine lifestyle. Canyon River and the Sunward team worked together to provide an accommodating structure for all residents and horse enthusiasts alike. This state-of-the-art covered pavilion provides residents with a relaxing space for horse activities or while hosting social convocations.
Sunwards Expansion into the Heart of Arizona
Often utilized as ranch buildings, barns, and equestrian buildings, this pre-engineered pavilion offers economical, easy-to-maintain alternatives to traditional wood-constructed buildings. Ideally used for horse farm owners, roof-only steel structures provide buyers the overhead protection they need while still allowing the comfort of an open-air environment. Our pavilion kits and blueprints are typically much faster and cheaper to raise than wood buildings, saving owners valuable time and money.
At Sunward, we carefully oversee every assembly measure, we label & sort every steel segment as your building proceeds through our manufacturing facility. Your correlating blueprint is termed specific and outlined, establishing an uncomplicated & streamlined construction process.
Player of Promise in Payson
In true player of promise form, Arizona real estate mogul, Paul Groseta has immersed himself in the real estate and all events of the renowned Canyon River Ranch. Paul would love to discuss available opportunities at the ranch or take you on a private showing, you've never seen anything quite like this!
This property is surrounded by Tonto National Forest at an elevation of 3,600′. The ranch is undeniably inviting and is meticulously settled against the Mazatzal Wilderness Area; providing breathtaking views for miles in either direction. Canyon River Ranch is truly a blank canvas with endless opportunities for new residential property owners, equestrian enthusiasts, horse farm owners, entrepreneurs, and investors alike.
Canyon River Ranch speaks to the adventurous soul to answer the call of the wild; to explore this beautiful property & new community. Reinvigorate your senses with the summer smell of a ponderosa pine forest, panoramic views of breathtaking sunsets and sunrises every day from your new home, or with your horse and neighbors at Sunward's 20,000-square-foot pavilion.
Considering purchasing a pre-engineered barndominium, equestrian, or pavilion building in Arizona or another part of the country?  Contact us for a quote on your next steel building project.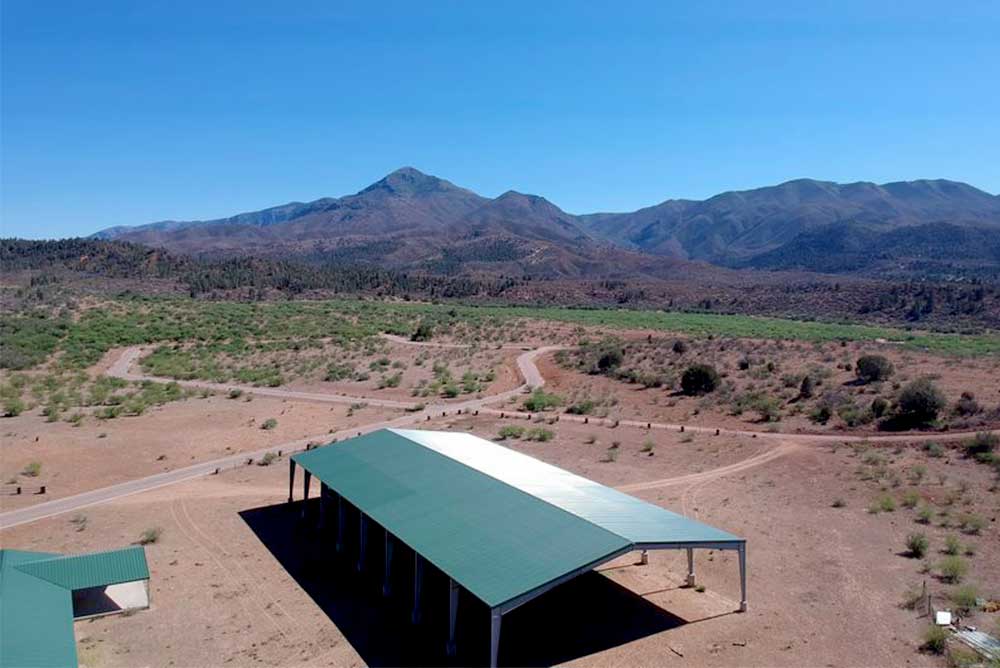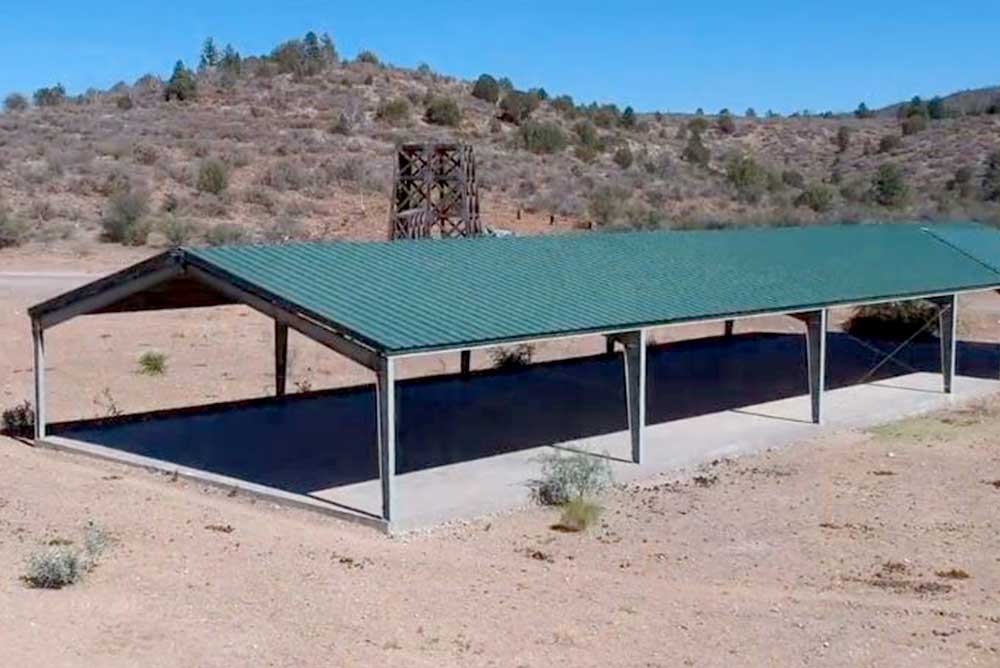 Building Specifications
Designing a village venue that would be multifunctional, all-seasonal, and hard-wearing while encompassing a lasting curb appeal was of utmost importance. Not only did we provide a structure constructed of premium-grade steel components, but one that stands tall and anchored during intense dust storms and the unyielding desert heat.
This steel open-walled structure once erected stands at a stately 100'W x 200'L x 20'H in size. The corrosion-resistant roof, arched with a 2:12 pitch, presents a polished dark green tincture with a correlating green trim package. Featuring several customizations added with regard to the climate characteristics of the area, we included a 90-mph wind speed rating and a 20-psf canopy weight load. Tried and true since 2008, this building has weathered the harshest conditions and still introduces itself beautifully with an antiquated Arizona aesthetic while showcasing the essential essence of steel substructure.
Featured Sunward Steel Equestrian Buildings