Sunward Steel Continues Its (Virtual) Support of the National Western Stock Show
Event's Online Tradeshow Component Moving Forward Despite In-Person Event Cancellation 
Each year, Denver's National Western Stock Show welcomes hundreds of thousands of guests from all over the world for a large-scale celebration of agricultural education and the region's rich Old West heritage. The annual livestock show and festival includes rodeos, an auction of more than 15,000 animals and other Western-inspired fanfare, and it also generates funding and scholarships for agriculturally-inclined high school students across Colorado through its National Western Scholarship Trust.
While recent world events have forced the cancellation of this year's in-person event, Sunward Steel and other longtime Stock Show supporters and exhibitors are moving forward with the event's trade show component, albeit in an updated, virtual format.
Sunward Steel & The Stock Show: A Storied History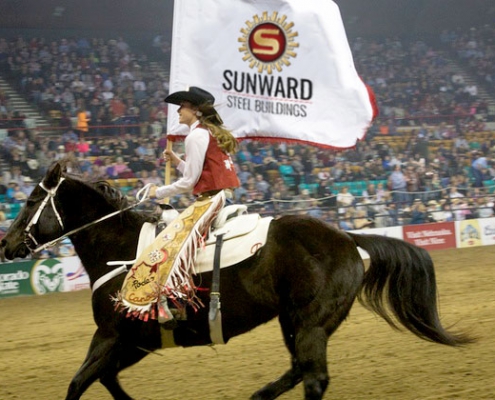 An attendee and supporter of the National Western Stock Show events for 35 years and counting, Sunward has deep roots in the local and regional agricultural industries and even supplied a steel building for use in past Stock Show events. Sunward Steel is also a proud sponsor of the Westernaires, a mounted precision drill organization that trains local youths in Western riding and equestrian care and is a regular presence at the event.
While this year's live event is off, Sunward Steel will continue its support of the nation's premier livestock, rodeo and horse show in 2021 and is a proud participant in this year's virtual trade show. As we have in the past, we'll offer "Stock Show Specials" on our website and throughout the show, offering many of our pre-engineered steel buildings at some of the year's lowest prices.
While we're saddened to not be able to attend this year's event in person, we're honored to do our part to continue to support the Stock Show, the local and regional agricultural communities and the efforts they make to educate and engage local students and keep Old West heritage alive. We hope you'll join us during the virtual trade show, and we look forward to resuming our regular attendance at one of Denver and the West's best-loved special events in 2022.
Check Us Out During the Virtual Agricultural Trade Show
The virtual trade show run in Jan through the 24th. Check it out via this link https://nationalwestern.com/vendor-shopping/