Aircraft hangars often require higher eave heights, clear-span widths and large sliding doors, among other special features including mezzanines. We manufacture metal aircraft hangars with clear-span widths of as much as 250 feet, ensuring unobstructed open space for your aircraft, and we also offer a broad range of bi-fold and commercial siding door options. Whether you're looking to house a small, single-engine aircraft or a massive jumbo jet, we can supply you with an aviation building that delivers in terms of strength, functionality and durability. Aircraft storage and hangar buildings we commonly supply across the United States include:
Single-unit hangars
Multi-unit hangars
Roof-only hangars
T-hangars
Corporate commercial aircraft facilities
Once you have the basic design of your steel hangar nailed down, you can customize it based on need. Bifold, hydro-swing and double-sliding doors are just a few of the options that allow you to to access your aircraft in and out with ease, and you can also utilize ridge vents, skylights, canopies and other features when designing steel your steel aviation building. With a nearly 50-year history in the industry and thousands of metal hangars supplied worldwide since our inception, you can count on Sunward Steel to provide you with a building that protects your pricy investments while helping them retain much of their resale value at the same time.
Bi-fold Doors
Bi-Fold Doors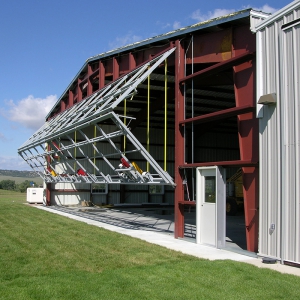 Bi-fold Doors are the most popular types of doors for hangar structures or any building type that needs wide access. Bi-fold Doors are an incredibly durable, reliable option to secure your aircraft and protect it from harsh weather. These doors allow you to move your aircraft quickly and easily in and out of your hangar. Bi-fold Doors give you full access to your hangar building's available space.
Featured Sunward Aircraft Hangars
"*" indicates required fields
SEE SOME OF OUR LATEST PROJECTS